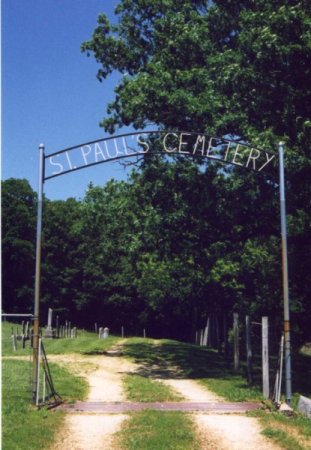 Welcome 05/26/08
Welcome to the web site of the St. Paul's Cemetery Association. It is a product of the efforts of the members of the Association. Special thanks are due the following people and the Association acknowledges their specific contributions which made this possible:
Glenn Meyer, the Association's President from 1999 to 2002, who compiled the burial data through 2001 in a database form that made computer manipulation possible.
Ken Kunstmann, who provided the photographs for the gravesites through the year 1999.
Ken Kamper, whose map/plat of the cemetery was invaluable in matching the data with the pictures.
William L. Guelker, (the son of our previous Secretary) who provided the know-how to store, maintain, and display their efforts on the website he built.
We all invite you to make a "visit" to St. Paul's. If this is your first visit, see the bottom of the
Latest News
page for a few instructions on the functions that are available and please use the link at the bottom of this page to send us your comments and suggestions for improvement. We also encourage you to send us your email address so that we can send you the Annual Newsletter and any Notice of Work Day without incurring postage expense. (Your address will not be shared for any other purpose.)